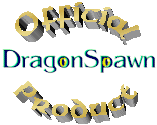 The DragonSpawn Offical Logo is a means of providing players and game masters alike with a method to determine what materials, associated with DragonSpawn, are officially sanctioned by BlackStar Publishing. Although anyone can create items and rules for DragonSpawn, only those items which carry the Offical Logo are carefully crafted to meet the guidelines given below.


Official Items must be in a ready-to-publish format. For the forseeable time, that format is considered to be the latest avaialable version of Microsft's Word program, or the document must be in HTML format.
All official items will be made freely available across the Internet.
Items will not contain any of the following:

Abusive or obscene language.
Gratuitious descriptions of sexual organs, reproductive acts, or violent rape.
Hate speech or racial prejudice.
Text which calls for the player to act out any game action as if they were their character.
Anything which is outside the scope of common decency as it is applied by community standards.

All items must be based on other Official works. Items which are based off of other DragonSpawn items which are not considered Official cannot be official.
All items must be the unique creation of the submitter. No items can infringe on any other copyright or trademark in any way.
All items submitted for the Official Logo will be reveiwed in a timely manner by the creator of DragonSpawn, Jeffrey R. Naujok. His ruling of whether an item is official or not is final.

Items which are reveiwed and not approved can be re-submitted after changes are made. If an item is approved, the submitter will be notified by e-mail. If the submitter chooses, the DragonSpawn home page will host the data free of charge to the submitter. All official products will have the name of the submitter on the first page.
To submit a document for reveiw, please follow the "Submit a document" link below to go to the submission page.

Submission of documents is currently unavailable.
---
DragonSpawn is Copyright © 1996 - 2022, by Jeffrey R. Naujok. All rights reserved.